Tis

true,

mon

cheries

.
I am aware that I have not blogged in centuries. Trust me, I have wanted to. But I am now in CANADA, as I have been since June 28, and I'm having a blast.

The first night we went straight to Uncle Freddie's and sat around with the family doing nothing. But it was fun. We then went to our hotel right along the Detroit River. Guess what's across? MICHIGAN! It was a pretty stinky hotel but we were literally right next to

wher
e the wedding was being held, the Clarey, now named St. Claire's center for the Arts, which is where my mom had her wedding reception and also where my cousin

Renda

, was getting married.

Through our window, you could see the Freedom Festival, an annual parade/carnival in honor of CANADA DAY! So, we stayed in the hotel with my cousin Dina, whose my mom's age, and her daughters Samar and Tamara who are exactly me and my sisters age. They are coming to California in about 2 weeks so you shall be meeting them.



Anways

, blah blah family stuff, and I had my

ipod

in my ears 24
7 while i also managed to listen and respond to the questions of my family:

how's school?

was drama fun?
how old are you now?

well, let me explain. i was stressing the entire week at my dads on what song to sing.

suzy

cripe

burned me a CD of 15 wedding songs. including some she personally took the time to explain she and papa

cripe

had sung at

her

wedding. did i mention she gave me some attached papers? So, after listening to the same 15 songs over and over, I thought, hey, why not sing Endless Love? Need I mention Austin Miller and Laura

Osnes

sang this on duets week? Well it was the

Mariah

Carey and Luther

Vandross

version, and my mom suggested it in the first place, so I was like, eh alright. Then I thought of separate

possib
ilities

and settled on Why Do Fools Fall In Love? as a second option. And how bizarre that this song happened to be the FIRST song Laura sang in front of a LIVE audience? The audience we would have been in? I'm telling you, I'm connected to this woman. So, Why Do Fools Fall In Love was way more

Doo

woppy

than I thought. So finally, FINALLY, I thought "I'm going to sing How Do I Liv
e Without You?"


So the morning we packed I downloaded it.




Anways

, the day of the wedding came and my mom woke us up so darn early to go to the mall and get our hair done, where I proceeded to STILL learn the song and read
the new teen vogue while the poor girl tried to straighten my hair. No one can do it as well as me, but the hair stylists do it faster. And then I spend 10

minutos

fixing it.




Alrighty

, so my darling hair was done, Samar and Tamara had cute

updos

, and my sister's hair was last. Obviously. Then Dina made us run to the other side of the mall to Shopper's Drug Mart, the most amazing Canadian Drugstore, it's Target and the

Nordstroms

makeup counter combined. So

Dina

wanted us to get eyelash extensions for her, so we did, and then we had to figure out where to get a blank CD so I could put my song onto it, and we were all

bizzaredly

franticizing

and my mom just said

Reema

would have one.

Reema

is

Renda's

sister. So we rushed back to the hotel, I got my stuff o
n, and STILL practiced my song in the lobby. I was only 99% comfortable with the song and that clearly wasn't enough. Off we went once everyone was down in the lobby. We went to Uncle Freddie's where the ceremony was being held in front of the house with only close family members. It's called

Ketbiktab

, meaning roughly, read the book. ROUGHLY, it's really hard to translate certain things in

arabic

. It's just the whole

loong

, Do you accept this man? I do. Etc. But the interesting stuff happens in the beginning and end. Amen, the groom, has a bizarrely boisterous mother who is full on draped and covered in exotic linens and the whole time she has this line of people and she yells this bizarre

arabic

song/chant that has something to do with marriage and throws flower petals all over the place. Every once in a while, she would discreetly eat a flower petal. But I'm not done, while she chants this, Amen's brothers hoist him up and he

awkwardly

dances while upon their shoulders. Allow me to produce a visual:


Boisterous

bizzare

woman is in the blue. Find her. Alright. There is also this bizarre Arab

tongue

thing that I cannot possibly type. I shall say it the first thing upon my return. But it is a trill that ends with the word "

eesh

." As in Joanna

Chiang

and

Danja's

weird sounds. So after this bizarre event, we went BACK to the hotel to get ready for the reception. My

madre

changed and all I did was fix my

sweated

off makeup and hair. Then I ran down the halls and down the elevator to Samar's hotel room, where we frantically found a piano version of my song. Then we burned the song onto a CD. And we were out the door once again. To the reception!

Slowly, slowly people started arriving, and I hid under the table to review my song once again. I was becoming

obssesive

. But then again, I didn't always know the song, so it's always nerve wracking to think of forgetting the words when you learned the song in a little over 8 hours. So I kept asking my mom when I was going to sing, and who should I give the CD to, and

yadda

yadda

, and she grew upset with moi. So then when the reception actually kicked off with some very nice speeches from family, best friends, and the groom himself. So the eating started and the food was delicious. There were 7 courses and I was full by the second. So I went around and mingled and all my

familia

threw their cameras into my arms and made me take thousands of pictures. And then my mom got up to ask

Walid

,

Renda's

brother/head honcho of this whole thing when I was going to sing. I got to sing after the father daughter dance and

embarrassing

arab

dancing and stuff. So it was pretty honorable that people got to leave remember me singing. So my mom grabbed me WAY sooner than I thought to sing. And I forgot to mention, it was a surprise! Only certain people I wanted to know knew. Like my cousins. But neither

Renda

nor Uncle Freddie knew! And I was so excited. So when it was announced someone special was going to sing. I took a deep breath, there were over 1,000 people there! And I got up on stage. I was also worried that I wouldn't sing my OWN pitch, because hearing a different voice

receptively

made my brain want to sing like the singer. HOWEVER, once I got on stage and started singing, it was all my vocals and even I myself was so surprised. I had never sung so beautifully in my life! I'm sorry if I'm coming off as conceited, it's just I couldn't believe I was doing this. It was really funny because once

Renda

and Amen started slow dancing Amen silently mouthed "Thank you." It was awkward. But then again what isn't?

So while I sang I was quick to notice my lovely mother and sister plus Tamara and Samar all standing ridiculously close to the side of the stage taking pictures and etc. I looked at Lama most of the time and

Renda

but I don't think Lama realized I was even though she was watching.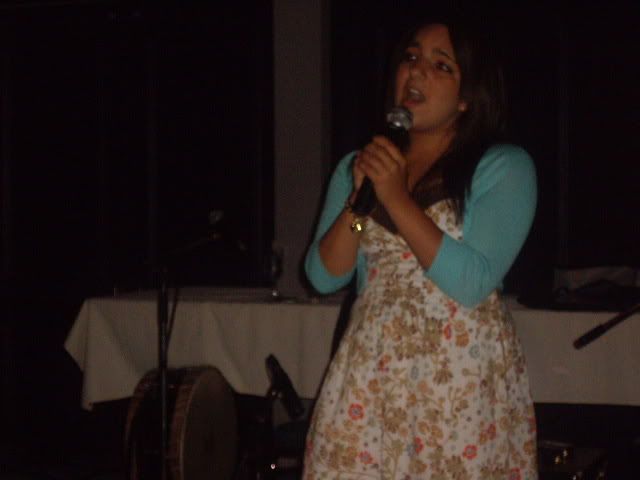 I hope you guys appreciate how ridiculously embarrassing of a picture that is. I don't look that freaky when I sing. My mom emberrasingly claims that this was "caught while I was in the moment." Haha.
Alright so after I was done everyone clapped and screamed really loud and I just kinda ducked away and alllllllll my family basically trampled me. They were like OMGGGG YOU ARE SOOOO AMAZING.
But then afterwards REALLY cute guys were coming up to me and since it was loud they would politely put their hand on my back and lead me to where it was quiet and ask me all about my life...it was awesome haha:)
So it was really fun and then eventually a couple of days we went to LONDON where I did some wonderful shopping including 3 new pairs of jeans from AMERICAN EAGLE! Joanna is proud! I hope you guys are too. Oh and now I have 4 pairs because I have another new pair from Tilly's you nevah saww.
In London, we went bowling with Samar and Tamara and on our last day there (thursday i think) we went to East Park, this fun place with a water park called WALLY WORLD! That was REAALLY fun, we went on the speed slides which are so fast abd huge they hurt your back. MAMA ELKURD went on one. The two big ones are the Catepillar and Bullet. The Catepillar is all WaaAAAvvVVVy and the Bullet is so scary. It goes straight down so you have to sit very precisely and then curves at the end. We had a great time.
So THEN we came back here, WINDSOR, where we are now staying at Uncle Freddie's. Yesterday we went swimming with my cousins Rodana, Dina, and Amira at my MOMS cousins pool. Which is really cool it's the above ground kind. And before that we went to the Family Fun Center which is this giant arcade with fun games. All me and Dina did was win jackpots and play those car driving games. Then we went go carting in the back which was really fun because it was just us girls giving the guys who ran it a really hard time. But they were really fun, they go 150 mph and it's insaaane!
After THAT, we went to Lama and Dema's, we walk here every day, they live down the street form Uncle Freddie's and we watched my FAVORITE MOVIE!
MARY KATE
&
ASHLEY OLSEN'S
PASSPORT TO PARIS!
Honestly, that is the best movie ever, and I really recommend you watch it.
My favorite scene is BONJOUR, BONJOUR, OHMYGAWD.
It makes me laugh so hard i pee.
The night before we watched Accepted, which is way hilarious. We made a huge scene that night when we rented Passport to Paris and Accepted, the video stores are really cool. And Alex, my new best friend, is so hilarious. She's Dema's best friend and she's Italian but knows arabic. And I love it.
After Passport to Paris we watched the first ever season of LAGUNA BEACH! Dumb, I know, but I think it's so funny how cool they think they are. So now we're addicted and after these little kids are done watching Harriet the Spy we are going to watch it. Haha I'm in Lama and Dema's basement right now too.
So then today we went to this HUGE mall in Michigan with Dema called Somerset mall.
It's so huge, there are two sides and you have to take a skywalk to get across the other side. It stretched across the main roads! So one side is the rich store side and the other is the more substantial side:) I went on a spree in Urban Outfitters because all our relatives shower us in cash. Haha. Seriously, Urban Outfitters makes me SO HAPPY! So after that we went back to Uncle Freddie's to eat with Renda because she came back today from her Honeymooon. We saw her in the morning but it was for like 5 seconds.
So then Lama calls us and goes COME WATCH SUPER SWEET 16 THE MOVIE NOW HURRY. So back we are in the basement and after we watched that, which was so bizarre, it starred Aly and AJ, we are now watching Harriet the Spy. And now Lama just said SHUT UP EVERYONE I'M TRYING TO WATCH THE MOVIE I LOVE THIS MOVIE.
And Alex goes LAMA YOUVE SEEN THIS MOVIE MORE THAN IVE SEEN MY STOMACH.
that made me laugh soso hard.
Guess what we might see on Wednesday with Lama and Dema and Alex. Harry Potter. Because Danya even sees HP5 on vacation the day it comes out in CANADA right? Nerd.
Okay guys, that's basically my trip so far in a nutshell! I miss you so much, I got to talk to some of you today and I plan on calling you all tomorrow:) I'll now keep you updated daily and I can't wait to see you guys. 11 more days! That seems long, even to me, but I'll read sleep and eat off the time at my dads house, just looking forward to seeing you guys!
Tata for now :D
And if you read all of this, I truly thank you all